We are eager to partner with your family to lay a solid spiritual foundation for your children. We recognize that safety, quality Biblical education, & fun are critical in making your child's time at Lighthouse Kids not only memorable, but life changing! We have a heart for service, and desire to be a light in our community, empowering & equipping kids to share in the Great Commission.

When Jesus spoke again to the people, he said, "I am the light of the world. Whoever follows me will never walk in darkness but will have the light of life." -John 8:12
Join us for a great time of fun with friends!
VBS is a fantastic week of fun, energy and new friends including;
Fun Games & Activities
Songs & Laughter
Bible Lessons & An Exciting Missionary Story
Snacks
A high-octane event including dynamic games, many fun songs with motions, exciting time of memorizing scripture, a relatable evangelistic Bible lesson, a moving missionary story, and an educational and entertaining review game! This is a partnership with Child Evangelism Fellowship. Two identical sessions daily.
10 am - 12 pm Lewis & Clark Park
6 pm - 8 pm Belgrade Alliance Church
VBS isn't just for kids! Spend the week with us having fun, learning about Jesus and hanging out with some pretty great kids. Talk to Millie Veltkamp, children@belgadealliance.com for more details. We would love to have you join "Team VBS".

Can't be there, but still want to support our kids? Great! Go shopping for VBS. We are hosting the Child Evangelism Fellowship Team at the church, so need some supplies. Click on our shopping list below to see how you can help next time you are out shopping. Thank you for your generosity!
On Sunday mornings at 10:30 am, kids are invited to their very own, age appropriate time of worship, learning and hand-on activities, where they can meet Jesus in a fun & engaging way. Lighthouse Kids Worship equips children ages 4 through 4th grade with Biblical truths to apply to their lives.
Awana provides opportunities for kids to put their trust in Jesus Christ and learn to faithfully follow Him. Through a combination of exiting games, large group time, small group interactions and scripture memory, kids preschool through sixth grade are exposed to the love of God and the gospel.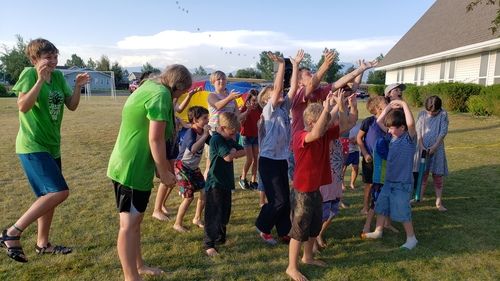 Community connection and relationships are important to Lighthouse Kids. We provide special events & connection opportunities throughout the year, intentionally creating space for kids & families to connect with each other, while loving our community well, making lasting memories..
It is extremely important to us at Belgrade Alliance that children who participate in our Lighthouse Kids ministry programs can do so in a safe and secure environment. We require all our children's ministry volunteers to complete a volunteer application, including reference and background checks, and to and complete child safety training. When you bring your child to a Lighthouse Kids ministry drop-off activity, We ask parents to check their kids in at the Lighthouse Kids front desk, located in the lower level of the church. If this is the first time your child will be with us, please plan to arrive a little early, so we can gather some information from you to help us keep your child safe. We seek to maintain a healthy environment the limits the spread of illness. We ask for your help in reviewing and abiding by our wellness guidelines.
Visit our safety & wellness page for more details and information.
Thank you for sharing your children with us and allowing us to partner with you in the spiritual development of your child. It is such a blessing to all of us at Lighthouse Kids. Please connect with us if you have any questions, prayer requests, or needs that your family may have. We are here to walk this journey with you.
Christian Education Director